Canvas gives the photo a timeless look and character to a room.
People have been painting on canvas for centuries. The technology nowadays allows us to apply different photos and pictures on canvas via computers and printers. The dignity and originality of this fabric has not changed during the years. There is something unique about printed photo on canvas. It is a good opportunity to add modern design accent and bring memories of important people and nostalgic places to a room. It is a good opportunity to create original interior designs at home or work.
In order to give a photo on canvas the best impression it has to be stretched on to a frame. We offer 2 cm deep stretcher bars and if desired, canvas print without frames. This is a comfortable solution if you want to transport the picture.
We like to say – canvas forgives. It means that you can print photos on canvas, that have been taken with, e.g. cell phones. Their resolution is too weak to print on photopaper.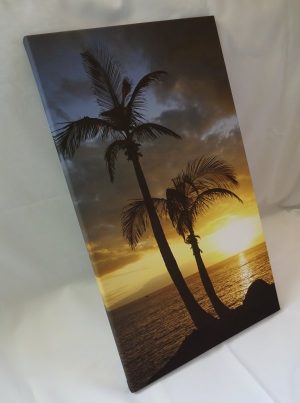 There is a sawtooth hanger behind the canvas (free of charge, middle picture on the right), that you can use to hang the canvas on a screw on the wall. If you wish, you can order a canvas hanging kit (bottom picture on the right). There is a hanger, a hook and two nails in the kit. The advantage of the hanging kit is that the canvas is placed directly against the wall. The price of the hanging kit is 1 €.
We have 5 different canvas materials. Click on the canvas name to read the description.
Matt canvas
260 g/m2.
Regular matt canvas that we have used the longest time. It has a very good price and quality ratio. The most characteristic feature is its rough sutface – you can feel it with your eyes closed.
Matt cancas is very good for photos and it is a favourite material of our regular customers. It is very scratch resistant for matt canvases.
In conclusion, this is the go-to material of our canvases.
Polyester canvas
280 g/m2.
The main feature of our synthetic canvas is its water resistance. Cotton canvas stretches when getting wet but synthetic material is is not affected by water or air humidity. Therefore it can be used in the bathroom.
This is an excellent canvas – the pattern of the material is like our matt canvas but the clarity and purity is like from our artistic canvas. The colours are beautiful and clean and the picture has a very good contrast.
Satin canvas
330g /m2.
Like the name suggests it is a little glossy. But it is not that prominent and therefore doesn't disturb. The colour depth of this material is the best of our canvases. Every golden sunset, deep blue sea, ripe and delicious strawberries – all of them will be colorful and beautiful.
Artistic matt canvas
410 g/m2.
This material is very thick and bright. The thread is seen on the pattern of the surface and can be detected even after printing. Its bright white surface allows us to achieve vivid and clean colours. The smooth structure of this massive canvas gives the impression of dignified and valuable material.
We recommend this material for reproductions and black-and-white pictures.
Glossy silk canvas
120g/m2.
The first and most important part is the gloss. This divine gloss turns blue into electric blue, yellows into golden and light areas silver. Computer screens cannot show its true colours. You have to see them with your own eyes!
The fabric is from pure silk and is very thin and light but doesn't stretch. It is very strong and resistant to tearing. And these colours… The sun, artificial light, intensive colours and brightness are made for this canvas. The best result can be seen in artificial light.
PS! The printed surface is not waterproof! Please keep this material away from direct water and rooms with high humidity. In addition, you should be careful touching the canvas with your hands because they can also be moist. Because of its thin material the canvas is not suitable for rooms with too strong sunlight – the frame can be easily seen through.
You can print other interesting pictures on a canvas besides photos – take a look!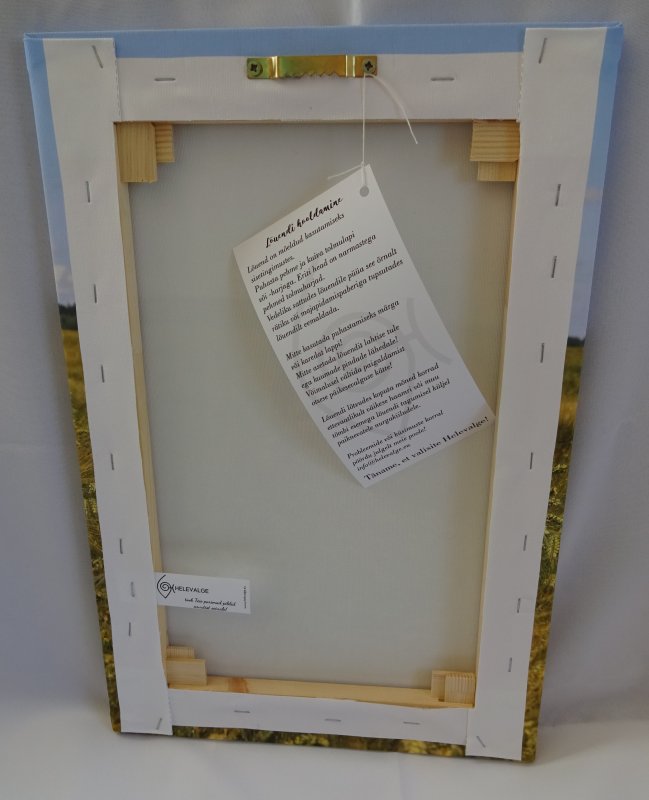 Canvas from behind, with sawtooth hanger.